As a singer, he's known for his high notes; as a guitarist, for his bluesy sound. But to hosts and party planners, Denny Leroux is best known as a bandleader with an amazing ability to please any crowd. His unique stage presence and wonderful rapport with audiences help ensure your event's success.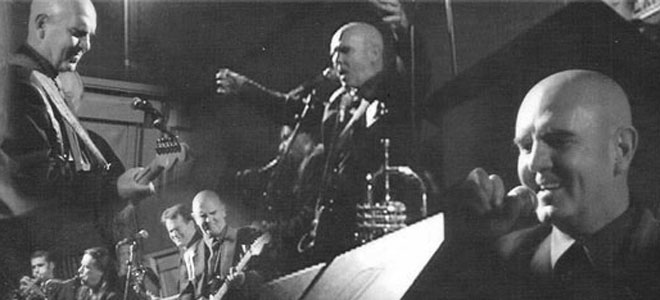 Denny's career experience has included sharing the stage with performers such as Aretha Franklin, Frank Sinatra, Wilson Pickett, Whitney Houston, Bill Murray and Bo Diddley, to name a few. His stints as a young performer with New York society orchestras like Lester Lanin and Peter Duchin helped make him the party entertainer extraordinaire he is today.
Experts at sensing the mood of an event, Denny and his orchestra choose from a wide-ranging repertoire of every type of music. Show tunes, big band, society sounds, Dixieland, Latin, jazz, country, blues, classic rock and the latest top ten all come into play.
Mardi Gras ball revelers in New Orleans, Inaugural Ball guests in Washington, D.C., concert-goers at Carnegie Hall, tuxedoed cowboys in Wyoming, and Baseball Hall of Famers in Cooperstown have all partied long and happily to the music of Denny Leroux and his fabulous Orchestra.
So whether your event is a gala museum ball, a fairy-tale wedding, an awards dinner or an intimate birthday dinner for close friends, Denny and his expert singers and players are pleased to bring all their talent, enthusiasm and years of experience to your stage.
The Music, the Orchestra …
Denny Leroux's Orchestra brings you some of the best musicians in the business. They have a broad range of every kind of event experience, from formal fundraisers to debutante balls to rock concerts. Denny prides himself on working closely with you to customize their sound to your specific needs. A small combo of jazz players might be perfect for an intimate affair. A big band with a horn section and several singers could be the thing for a large charity ball which starts off with foxtrots for the older patrons, and ends the evening with driving party rock and current hits. For weddings, we provide a checklist for the bride and groom, so that they as well as the wedding party can hear their favorites on the important day.